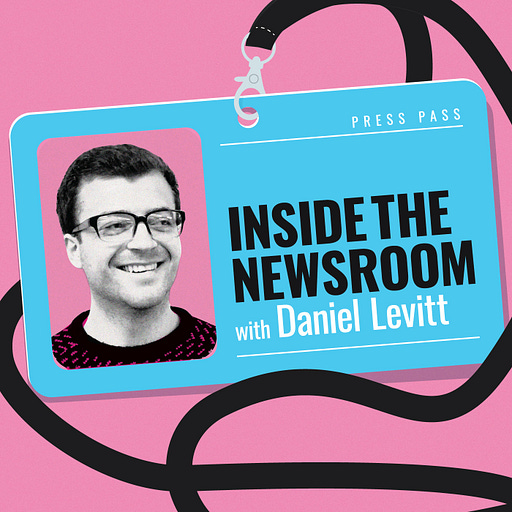 Apr 15, 2019 • 58M
#35 — Richard Deitsch (The Athletic)
Daniel Levitt delves inside the minds of journalists around the world
You're reading the inaugural edition of the Inside The Newsroom podcast newsletter. If you like it, then consider subscribing to get something similar sent to your inbox every time I publish a podcast. And maybe even tell a friend or colleague too.
Today's Guest Is…
… Richard Deitsch, a journalist for The Athletic covering sports media and radio host for Sportsnet 590 in Toronto. Richard previously covered sports and its media for Sports Illustrated for more than 20 years. We talked about various topics including the rise of alternative sports media (i.e. The Athletic) against legacy outlets (i.e. ESPN and Sports Illustrated) and how ESPN is dealing with insurgents to its empire. Below is some further reading (kind of like being back at school but more fun) about everything we discussed.
New Sports Sheriff In Town
The Athletic — the subscription-based sports website whose ambition is to "be the local sports page for every city in the country" — launched in January 2016. The site now has dedicated sites for more than 45 cities across North America, as well as for certain pro and college sports. Momentum appears to be strong — they raised $40m in their latest round of funding — in part because they now exist as a hive of former writers from the likes of ESPN, Sports Illustrated, Yahoo Sports and more. The comeback of the paywall and its consequences have been fascinating to watch, as the Athletic very much has become the Spotify or Netflix of sports media.
Kevin Draper, The New York Times
Prepare To Pay For Your News Again
Employee layoffs are commonplace in today's world, in large part due to Google and Facebook's domination of advertising revenue. Between 2008 and 2017, around 27,000 newsroom jobs in the U.S. were cut. In the UK, more than 200 local newspapers have been completely erased. To combat the decline, more and more outlets have introduced paywalls that require readers to actually pay for content — the New York Times, Washington Post and Financial Times are three of the biggest to do so successfully. But can smaller organizations make paywalls work too? Well, there is hope. Digital media companies have much larger audiences than they did a decade ago, and successful paywall models by the NYT and co. show that consumer habits are changing, i.e. people are willing to pay for news again.
Alexis C. Madrigal, The Atlantic
Demise of Sports Illustrated
Magazines played a huge role in me growing up to have my very own newsletter, as I'm sure they did for others, so it's disheartening to see the industry being decimated in very public ways. First published in 1954, Sports Illustrated became a weekly staple for US sports fans, providing inside access to their favorite teams and players that social media and podcasts do today. SI's role in pop culture has been crushed — why spend $5.99 when you can listen and scroll for free? Even the infamous Swimsuit edition has been made redundant due to, well, online porn. I'm not sure what happens to SI in the future — the title is currently up for sale for the second time in as many years — but whatever happens, the magazine will have a place in sports culture history forever.
Michael MacCambridge for The Ringer
The Guardian Shows There's Another Way
An alternative to the paywall and advertising is the donation-based model. Without shamefully plugging my own employer, the Guardian has proven that a large news organization can be sustainable while keeping content completely free. In November of last year, the Guardian reached 1 million supporters in just three years from more than 180 countries around the world. Also, donation platforms such as Patreon allow readers to support independent journalists to cover underreported topics. So, while parts of the industry will inevitably continue to downsize, there's definitely light at the end of what has been a dark, dark tunnel for journalism.
The Return of TrueHoop
TrueHoop is a basketball blog that started in 2005 and was quickly acquired by ESPN in 2007. It was known for its compelling deep dives around the NBA, and its contributors included giants such as Brian Windhorst, J.A. Adande and David Thorpe. After a two-year hiatus, Abbott and TrueHoop have relaunched as a newsletter on Substack, the very platform you're reading this newsletter on. Its first series was an investigation on Brooklyn Nets owner Mikhail Prokhorov.
The Latest at ESPN
Richard and I talked about why the likes of Bill Simmons, Jemele Hill and Adnan Virk — some of ESPN's most high-profile names — have left the company in recent years. This comes as part of an overall cost reduction strategy by the company, which was behind the 'Great Purge' of talent in 2017. The below link will take you to Richard's own podcast where he spent more than an hour discussing where ESPN finds itself in this changing media landscape and what its future looks like.
Richard Deitsch, Sports Media podcast
Related Inside The Newsroom Podcasts
Episode #28 — Jonah Keri of The Athletic
Episode # 26 — Jacob Bogage of The Washington Post
Next up on the podcast: Sam Biddle of The Intercept