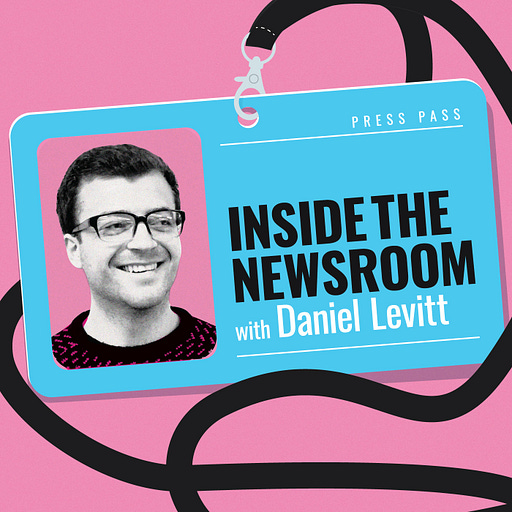 Apr 16, 2020 • 54M
#70 — Amy Webb (Future Today Institute)
Daniel Levitt delves inside the minds of journalists around the world
Hello! Welcome to another episode of Inside The Newsroom, where today's guest is Amy Webb, a world-renowned quantitative futurist and the founder of the Future Today Institute. You can find out more about who Amy is and what she does below, but let me just say that she's probably the most distinguished guest to ever appear on the podcast. Amy has so many damn achievements and knows so much about so many things that it's completely inspiring. So I hope you enjoy today's episode, but first my top picks from the past week. Enjoy 🤓
Social Distancing 2022 — Gulp. A Harvard study suggests we may need to practice social distancing until 2022.

Arsenal Players Refuse Wage Cut — The team prefers to defer their wages, as $10 billion owner Stan Kroenke doesn't have enough money. Poor sod.
Oh and don't be shy, leave a comment on what you think of the episode or if you have any questions about the topics discussed!
Amy 👇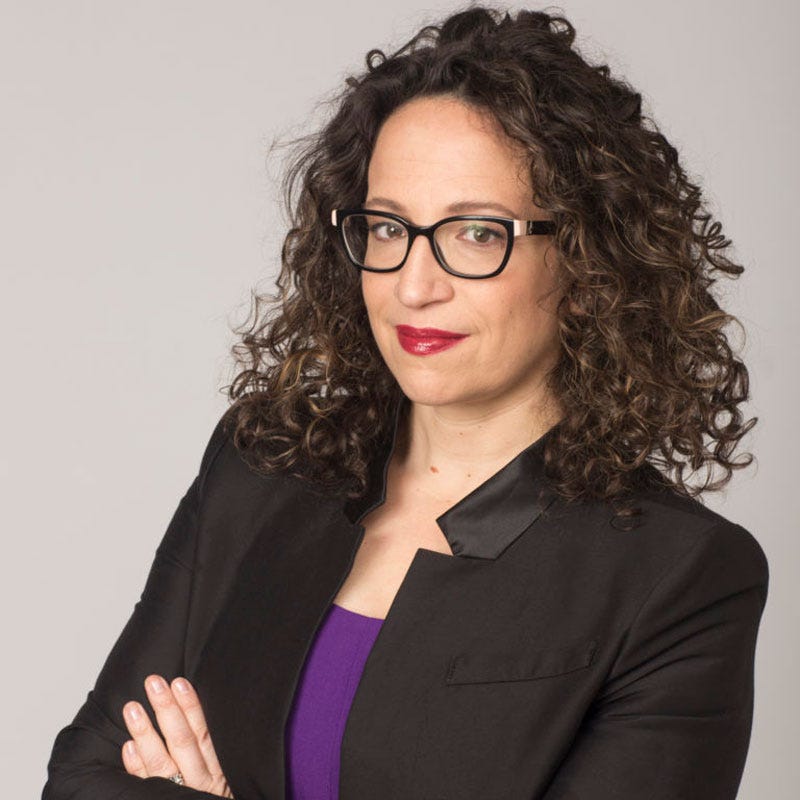 ---
Like Me, Please
Before you read on, please like this edition of Inside The Newsroom by clicking the ❤️ up top. That way I'll appear in clever algorithms and more people will be able to read. Cheers.
---
Who is Amy Webb and What is a 'Futurist'?
Amy is what's known as a 'quantitative futurist', meaning she interprets data to help governments and businesses plan for the future. She's written three books — The Big Nine, The Signals Are Talking and Data, a Love Story — and in 2006 she founded the Future Today Institute, her consultancy firm that models what the future might look like. Amy also teaches an MBA course on strategic foresight at NYU, is a nonresident fellow at the Atlantic Council's GeoTech Center, cofounder of Spark Camp and contributing editor and tech columnist and Inc. Magazine, among a host of other notable positions and achievements.
Not to be confused with the Italian art movement, futurism and planning for the future is as old as time. The term "futurology" was coined by German professor Ossip Flechtheim in 1943, who, along with author H. G. Wells several decades earlier, proposed "futurism" as a new academic discipline. With the rapid advance of technology and spread of information, futurists like Amy have never been so needed, especially when a pandemic can halt the entire world.
Amy studied Economics at Indiana University and then a master's in journalism from Columbia, and combined all of her academic and real life experience to become the futurist she is today. But there are more formal ways of working in futurism. Today's degree programs combine disciplines such as mathematics, engineering, art, technology, economics, design, history, geography, biology, theology, physics and philosophy. If you're interested in dipping your toe or making futurism your career, check out The Futurist Institute, and programs at the University of Houston, and University of Hawaii. Here's an awesome video on how Amy manipulated online dating to find the love of her life and husband of today.
---
2020 Tech Trends Report
Each year Amy and her team at FTI publish a report on the most significant trends in technology. The 2020 edition was released last month and includes an insane 406 separate trends from across 31 different sectors. This year's report is by far the largest and most significant in the 13 years Amy's been doing the report, partly because of increased investments, research breakthroughs, climate change, and the likes of Google, Microsoft and Amazon moving aggressively into unorthodox areas like medicine, healthcare and agriculture (more on that later). The other elephant in the room is the coronavirus, which has brought the global economy to its knees, and will continue to haunt the world in ways we could never have imagined for years to come.
As I mentioned, big tech companies are hastily piling large amounts of cash into automating agriculture. What does that mean exactly? Here's an excerpt from the report:
Big tech has its sights set on farming.
You read that right. Some of the world's biggest tech companies — Amazon, Microsoft, Walmart — are getting into agriculture. (We think of Walmart as a tech company as well as a retailer.) Microsoft launched a multi-year plan to modernize agriculture with data analytics, and is piloting a program already on two U.S. farms in which Microsoft has invested. Walmart is opening its own meatpacking plants and dairy processing facilities in an effort to drive down costs. Meanwhile Amazon's Jeff Bezos has invested in vertical farming.
Another of the trends that blew my mind was the idea of digital emissions. I know this has been around for a number of years already, but the very fact that a fart can be monetized is especially terrifying for me.
Our homes are producing digital emissions.
The average person isn't aware of how much data they're shedding. Collectively, our homes are starting to produce digital emissions, which includes all the data not actively used and processed by devices. Bits of information in that network include things like your body temperature as you watch TV, the ambient hums and creaks that your home makes at night, and the communication pings your devices make. Digital emissions aren't harmful to the environment, but they're an untapped resource to be mined and analyzed — with transparency and permissions, of course.
Oh and one more to leave you with… Researchers at Stanford University are developing a toilet that measures your "analprint" (sorry, lol) when you poop and pee, and could be able to detect if someone has a disease. Handy. You can download the full report for free below…
---
Who Leads the World's Digital Arms Race?
Depending on which index you reference, the most technologically advanced could be the U.S., it could be South Korea, or it could even be … Sweden? Apparently Sweden's culture of gender diversity and income equality make it an awesome place to start a business, just ask the founders of Spotify. But with the ongoing explosion of artificial intelligence, it is China that's leading the way and will continue to do so in the future, according to Amy.
We hear so often about Chinese companies copying western innovation, and in some cases just outright stealing intellectual property. But what is often lost is that China has become awesome at innovating, adding "Designed in China" to its trademark "Made in China". Their new strategy has led to Chinese tech companies like Baidu and Tencent joining American giants like Apple, Google and Amazon in controlling the world.
And a quick note on an unfounded conspiracy theory floating the airwaves in the UK recently that suggests the rollout of the 5G network is spreading the coronavirus. Let me just say that there is absolutely no evidence for this. Instead, focus has been lost in Huawei's involvement in 5G's rollout, the world's largest telecom supplier and second biggest phone manufacturer, with legitimate concerns over interference and surveillance from the Chinese government.
---
China Has Better Internet Privacy than America?
China's progressive innovation is where the buck stops online. The country has some of the creepiest surveillance laws in the world, including allowing the Chinese government to seize the personal information of customers of any of Chinese company at any time and with very little pushback. There's also the fact that the likes of Facebook, Google and Dropbox are banned and inaccessible to the country's 800 million internet users behind China's so-called "Great Firewall", in what has been termed the "Tech Cold War". God I'm a sucker for corny names. But some media critics suggest that China is actually ahead of the U.S. in terms of developing a modern day data policy.
Wait, China has better privacy laws than America? Yes, and I'm glad you asked. In 2017, then Republican-majorities in the House and Senate, and Donald Trump passed a law overturning strong internet privacy laws that gave users control over what internet service providers (ISPs) could do with their data, including preventing them from sharing browsing history with advertisers. It's important to note that the bills faced strong Democratic opposition. I like to use Ghostery, a Google Chrome extension available on laptops and mobile phones that allows you to customize which trawlers are allowed to save your data, or you can just blanket block the lot of them. P.S. I recently convinced my parents to install it!
---
Government's Shameful Lack of Preparedness
As someone who helps businesses and governments for the future, Amy and I are in full agreement that most of the institutions around us have been woefully unprepared for this pandemic. It's easy for me to sit on the sidelines and lambast them from my bedroom, but it's an absolute fact, though unmeasurable, that a lack of government and business action has led to a higher number of cases and deaths around the world.
Sure, we've got Trump upstairs making cuts to the Centers of Disease Control and most recently reversing funding for the World Health Organization. And in the UK, Boris Johnson recently left an intensive care unit after "things could have gone either way". I'm obviously pleased that Johnson's on his way to a full recovery, but it's hard to have sympathy for him when he boasted shaking hands with coronavirus patients in hospital just a few weeks ago.
From the business side, it's been rather scary relying on leaders that have been equally clueless in their timing and lack of urgency. One company, that shat shall remain nameless, asked its employees in mid-March to "trial working from home". Trial working from home? Sure, some workers need specific hardware or software, but for the majority of us who don't, how fucking hard is it to work from home? This should have all been in place already, preventing a mad scramble at the 11th hour.
I know it's annoying to hear but only time will tell whether the world's political and business leaders will learn anything from this episode. Pandemics have and always will be a part of our lives, just check out the list of pandemics that have changed the course of history below…
---
Coming up …
Tomorrow: South Korea election summary
… Next week
#71 — Andrea Jones-Rooy (Social scientist, comedian, circus performer) shooting the shit about life, journalism and other things
#72 — Ryan Broderick (BuzzFeed) on the 15th anniversary of YouTube
#73 — Major Garrett (CBS) on what it's like being a White House correspondent in the age of Donald Trump
---
Job Corner
Sign up to the Inside The Newsroom Job Board for weekly updates to more than 500 journalism jobs, internships and freelance gigs in the U.S., UK and around the world.
---
Thanks for making it all the way to the bottom. Please like and share this edition of Inside The Newsroom by clicking the ❤️ below. That way I'll appear in clever algorithms and more people will be able to read.
If you haven't already, please consider subscribing to get a newsletter about a cool news topic in your inbox every time I publish. You can find me on Twitter at @DanielLevitt32 and email me corrections/feedback or even a guest you'd like me to get on the podcast at daniellevitt32@gmail.com.