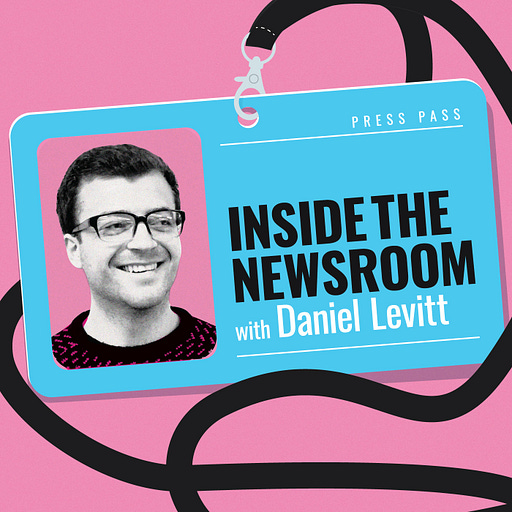 Apr 30, 2019 • 52M
#36 — Sam Biddle (The Intercept)
Daniel Levitt delves inside the minds of journalists around the world
Hello! And welcome to another edition of the Inside The Newsroom podcast newsletter. For many of you it'll be the first time receiving one, so I hope you get something out of it and please do message me with any suggestions (contact details at the bottom).
Today's Guest Is…
… Sam Biddle, technology reporter at The Intercept. Sam's worked at a host of outlets including DCist, Newser and Gawker in the past, and reports from the intersection of technological malfeasance. Above is the podcast. And below is more context of everything we talked about with links and a little analysis from yours truly.
The Intercept is Born
Sam joined The Intercept back in 2016, shortly after it was launched in 2014 by Glenn Greenwald, Laura Poitras and Jeremy Scahill. It's funded by eBay billionaire Pierre Omidyar. You may have heard of Greenwald and Poitras from their time in a hotel room in Hong Kong with Edward Snowden, as part of Poitras' movie Citizenfour, which documented Snowden's first contact with journalists about leaked NSA files. The Intercept is one of the most important news outlets in the world, imo, if not only for Greenwald calling out bullshit in public as he sees it.
Are Facebook's Algorithm Sexist and Racist? Hmm… 🤔
Sam delved into a new study showing how Facebook delivers certain adverts to people based on their race and gender, even when advertisers had asked to target a broad audience. Per the researchers: "Critically, we observe significant skew in delivery along gender and racial lines for "real" ads for employment and housing opportunities despite neutral targeting parameters. Our results demonstrate previously unknown mechanisms that can lead to potentially discriminatory ad delivery, even when advertisers set their targeting parameters to be highly inclusive."
Can We Live Without the 'Big Five'?
Ever wondered what life could be like without Google and Facebook? I know I do all too often. Fortunately for us, Gizmodo journalist Kashmir Hill went all-in and cut the 'Big Five' technology companies from her life for an entire week. Personally, I've deleted Facebook and Instagram in the past six months and definitely feel better for it. But I'll admit, I never knew how much of the internet's infrastructure relied on a handful of companies and, as Kashmir found out, it's almost impossible to operate as a human without them.
Like Inside The Newsroom? Do us a solid and tell a friend or colleague who might enjoy it and subscribe.
Add Another Zero and Then We'll Talk
The Washington Post reported last week that Facebook could be fined between $3 billion and $5 billion by the Federal Trade Commission, for the company's mishandling of its users' data. That could turn out to be more than 100 times larger than the previous largest fine levied by the FTC to a technology company — $22.5 million given to Google in 2012. The problem is, though, Facebook released its latest earnings on Friday, and a $5 billion fine represents just a third of Facebook's quarterly revenue, something the New York Times described as a "parking ticket". Facebook's share price rose 8 percent as a result. How do you penalize a company if a multi-billion dollar fine is good news?
Elizabeth Dwoskin and Tony Romm, The Washington Post
Zuckerberg's Pivot to Privacy
Back in March, Mark Zuckerberg published the latest of his trivial essays, this time on "a privacy-focused vision for social networking." The crux of Zuckerberg's message was that his platform would be moving to complete end-to-end encryption, that "prevents anyone — including us — from seeing what people share." Now, on the face of it, this appears to be positive. But does this now give Facebook an out from banning the fake content and Russian trolls that have plagued its platform in recent years? Like with most things, there's be pros and cons. But it's hard to believe that this move has been made for user protection, especially after leaked emails showed Facebook's real mission is to make as much money out of its users' data.
Joshua Rothman, The New Yorker
The Third Era of Zuck
It hasn't been long since rumours of a presidential run circled Zuckerberg, but a tumultuous 24 months later, the only visit to Washington Zuck's had has been to testify in Congress. According to Tim Hwang, who founded the California Review of Images and Mark Zuckerberg, we've entered the "third era of Zuck." First there was the "plucky in the college dorm room hacker guy"; then came "world leader"; and finally we've entered Zuckerberg "in the wilderness." Bearing in mind that Zuckerberg is still only 34, we're starting to see through the cracks of what has been an efficient PR machine until now.
Julia Carrie Wong, The Guardian
Jack Dorsey's PR Bullshit Tour
I've listened to three podcasts with Jack Dorsey in the past three months and all of them were scarily similar. Even ultra-skeptical podcast hosts such as Joe Rogan struggled to crack Dorsey's veneer, as Twitter's co-founder and current CEO told us that he's working on changes that will mitigate abuse and harassment on the platform, but users wouldn't notice them. Finally, in the below episode, journalist Tim Pool puts up more of a fight and things get a bit testy. Well worth the listen.
Joe Rogan Experience podcast with Jack Dorsey, Vijaya Gadde and Tim Pool
Related Podcasts
#31 — Max Read (New York Magazine)
#25 — Alex Hern (The Guardian)
#24 — Ben Hammersley (Future Predictor)
Next up…
Later this week we'll have the folks of Hurricane Man on to talk about their new show and what it's like being in the middle of a hurricane.
… Last week
#35 — Richard Deitsch (The Athletic)
Thanks so much for making it all the way to the bottom. If you haven't already, please consider subscribing to get a newsletter about a cool news topic in your inbox every time I release a new podcast (1-2 times a week). You can find me on Twitter at @DanielLevitt32 or email me corrections/feedback or even a guest you'd like me to get on the podcast at daniellevitt32@gmail.com.