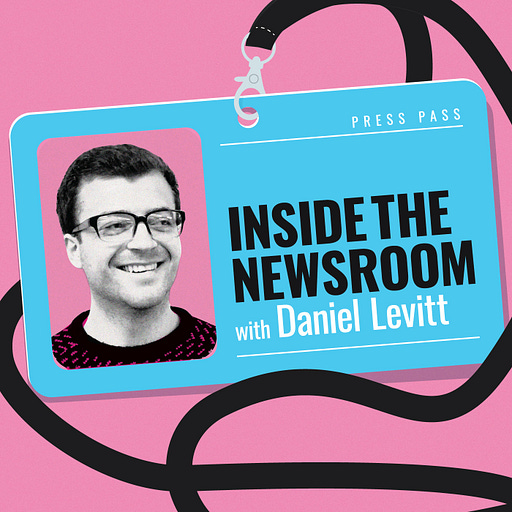 Oct 24, 2019 • 52M
#52 — Katie Notopoulos (BuzzFeed News)
Daniel Levitt delves inside the minds of journalists around the world
Hello! Welcome to another episode of Inside The Newsroom. Today's guest is… Katie Notopoulos! Katie covers internet culture and the tech industry for BuzzFeed News, and has a knack for finding kooky stories. We got into some serious stuff including Facebook's new advertising tool which allows you to see who has your data, as well as why Apple are masquerading as a privacy champion. Below is everything we talked about, enjoy! 🤓
Oh, and if you like what you read, how about clicking the ❤️ up top. I'll be very grateful. 😘
---
Is Apple Really Our Privacy Savior?
Compared with Facebook, Apple is a saint. Its main business model is to sell phones and computers, so it doesn't have a natural incentive to sell your data to ad companies. Regardless of what it sells, it's not hard to be seen as the good guy when stood next to Facebook, whose founder and CEO would probably sell his own sisters to advertisers. Apple has hit the PR trail hard recently to tell us that, unlike its competitors, the iPhone maker will not track your data and sell it to marketers. But by the very nature of its products — Apple News+ and Apple Pay to name just two — that's hard to believe.
It's remarkable, and quite laughable, how much Apple's classic soft sell adverts have morphed into direct and blunt messages about how terrible its competitors are. Gone are the days of Bono making you want to dance around like a prat in your bedroom. Today, Apple's USP is fundamental privacy features that should be expected of any company.
Katie Notopoulos, BuzzFeed News
Facebook Is Rubbing Your Data In Your Face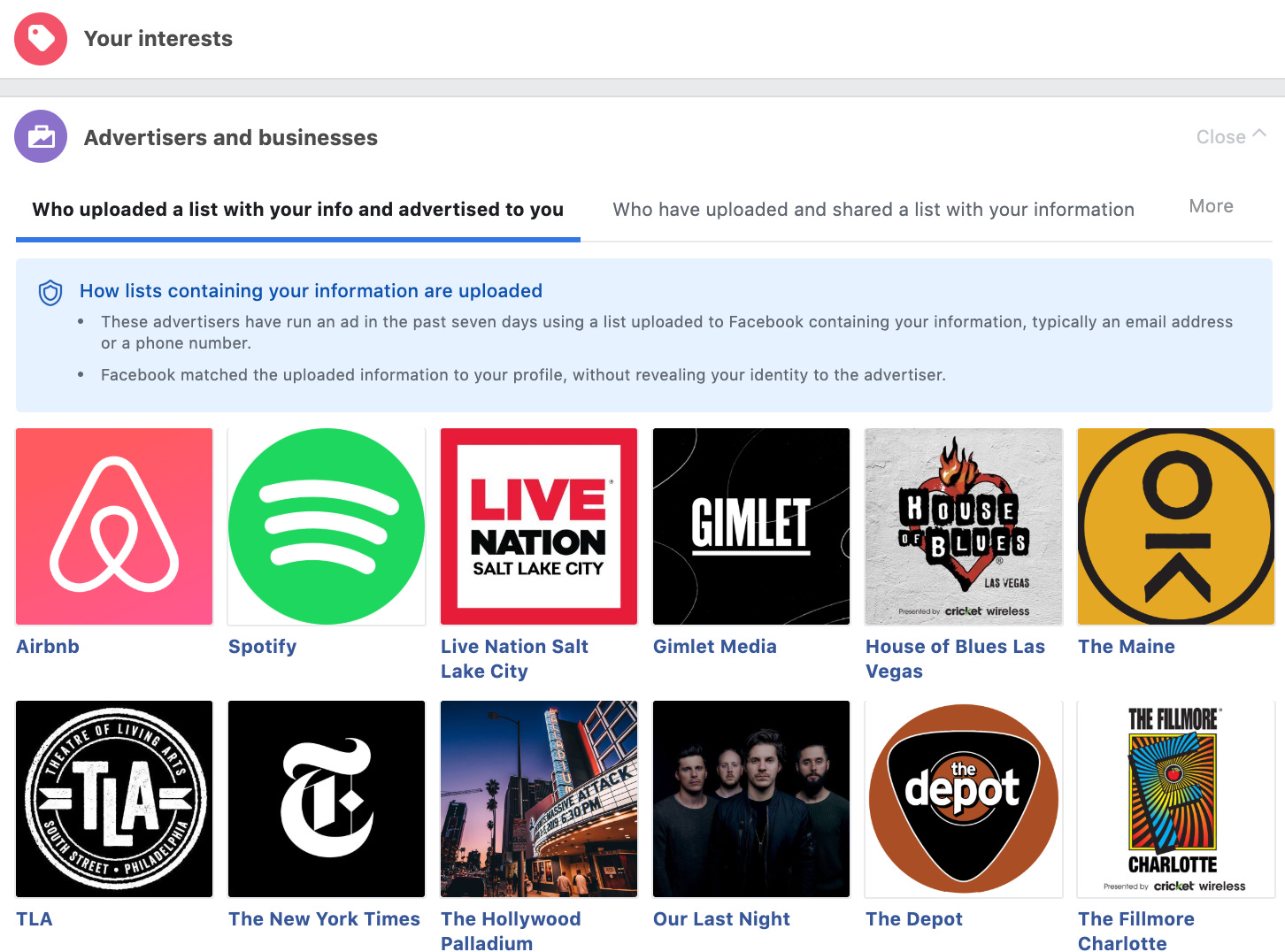 Facebook recently rolled out a new tool that shows you all the previously-hidden advertisers that have your data. On the face of it, this is a positive step toward transparency. But it's also a semi-admission that there are God-knows-how-many companies out there that have your personal data. According to Facebook, "These advertisers are running ads using a contact list they or their partner uploaded that includes info about you. This info was collected by the advertiser or their partner. Typically this information is your email address or phone number." So it's telling us that random ass companies have our data, but not how they got it and whether they were complicit in this.
Now, seeing the likes of Airbnb or Spotify on the list won't shock or surprise anyone. But I was weirded out as to why The Fillmore Charlotte, a music venue in Charlotte, North Carolina, had my details considering I'd never stepped foot in the state of North Carolina. This is an attempt by Facebook to showcase itself as transparent, but in reality it's just a submission of the pressure stemming from a New York Times report that revealed Facebook's emails to reveal their true mission.
Katie Notopoulos, BuzzFeed News
---
---
The 'Techlash' Is Coming…
Like with most things, it's easy to become caught in a bubble and lose sight of whether the 'average' person even cares about privacy. Thanks to our friends at the Pew Research Center, we know that consumers are starting to turn against social media and tech companies in what has been dubbed the 'techlash'. It seems like a million years since The Social Network lit up the box office with almost a quarter of a billion dollars, with Zuckerberg and Facebook riding the feel-good factor that came with the success of the movie. But all good things come to an end. Facebook is now largely seen as the devil of the tech industry, which is pretty well justified after they helped screw up the 2016 election, and then failed to learn anything since.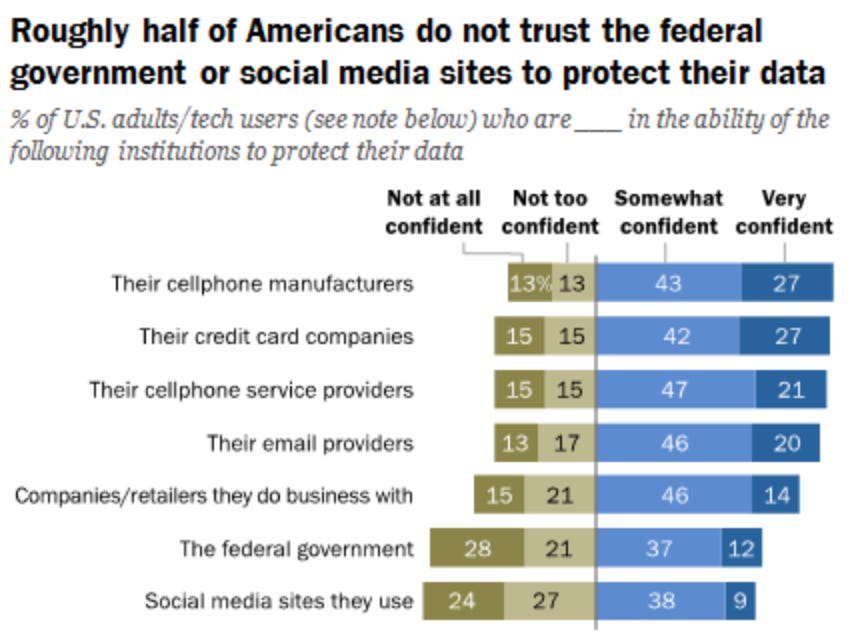 Credit: Pew Research Center
Lee Rainie, Pew Research Center
---
U.S. Government to the Rescue?
Social media and tech firms have spent millions in lobbying Congress to let them continue to self-regulate, but it appears the tide is changing. The tech industry has suddenly become more open to the idea of the federal government enacting consumer privacy legislation, but don't be fooled by their new-found receptiveness.
Until now, it's been individual states that have been the most aggressive in the fight against the tech companies — California was the first in the U.S. to mandate companies notify customers in the event of a data breach — and the likes of Google, Microsoft and Uber know that handing the keys to lawmakers in D.C. will override state laws.
---
---
Poll Finds Facebook Repugnant
A joint poll by Axios and Harris Poll ranked the most beloved, and the most hated, companies among the nation's most recognizable brands. Apple's marketing seems to be working and has staved off the techlash for now, but the same can't be said of Facebook. Among the top 100 brands, Facebook is 94th overall, rubbing shoulders with the likes of Goldman Sachs, Trump Org. and the U.S. Government. Among just tech companies, Zuckerberg ranks dead last.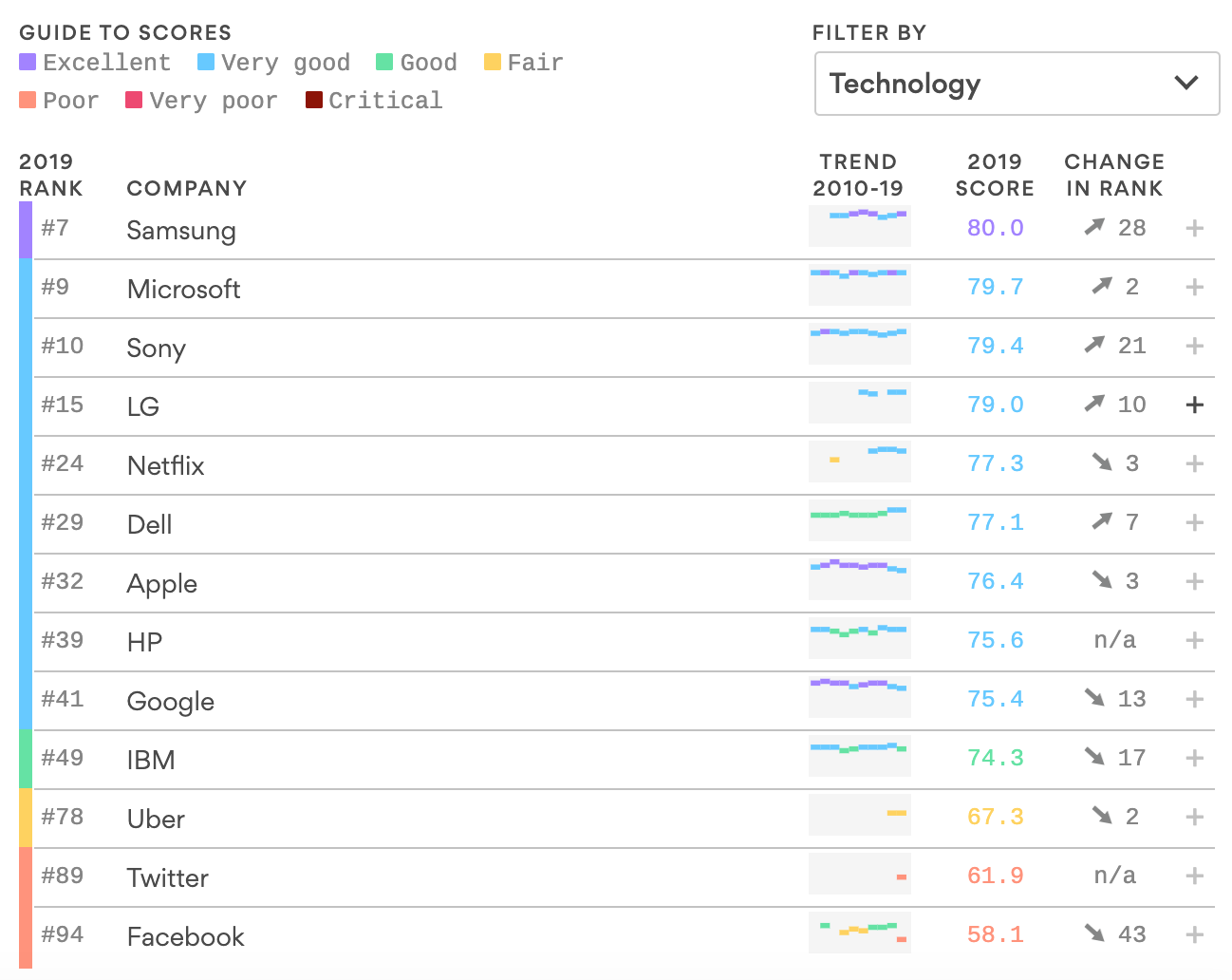 ---
A World Where Public Is the Norm
The behaviour by the giants at the top has made way for publicly sharing data to be the norm across the industry. Even the likes of Venmo, whose privacy settings are automatically set to public when you first sign up, have taken advantage of the non-existent laws surrounding protecting user data. Each time you send or receive money from someone, Venmo needlessly posts the details of that transaction to all of your connections.
And the consequences of such settings, unbeknown to most of its users, are very damaging. Earlier this year a researcher was able to scrape the Venmo API and download personal details of 115,000 transactions per day. In total, he gathered seven million public transactions which, if in the wrong hands, could then be sold onto marketing companies to start advertising to you.
---
Next Week… We'll have the red hot Emily Atkin on the pod, formerly a climate reporter for the New Republic who recently launched her own newsletter on fighting climate change, aptly named Heated. We'll also have Bill Bishop on, who also has his own newsletter, Sinocism, which is the No. 1 newsletter on Substack!
Related Podcasts
#43 — Kashmir Hill (New York Times) on cutting out Amazon, Apple, Facebook, Google and Microsoft
#41 — Jessica Lessin (The Information) on what it will take to break up Facebook
#36 — Sam Biddle (The Intercept) on whether Facebook's algorithms are sexist and racist